An Empire of Solace: Knights of the Reach
Masquerade
Description:
『Masquerade』
══════════════════════════════════════════════════════════
Curious ♦ Trickster ♦ Secretive ♦ Mercurial ♦ Jealous ♦ Detached
══════════════════════════════════════════════════════════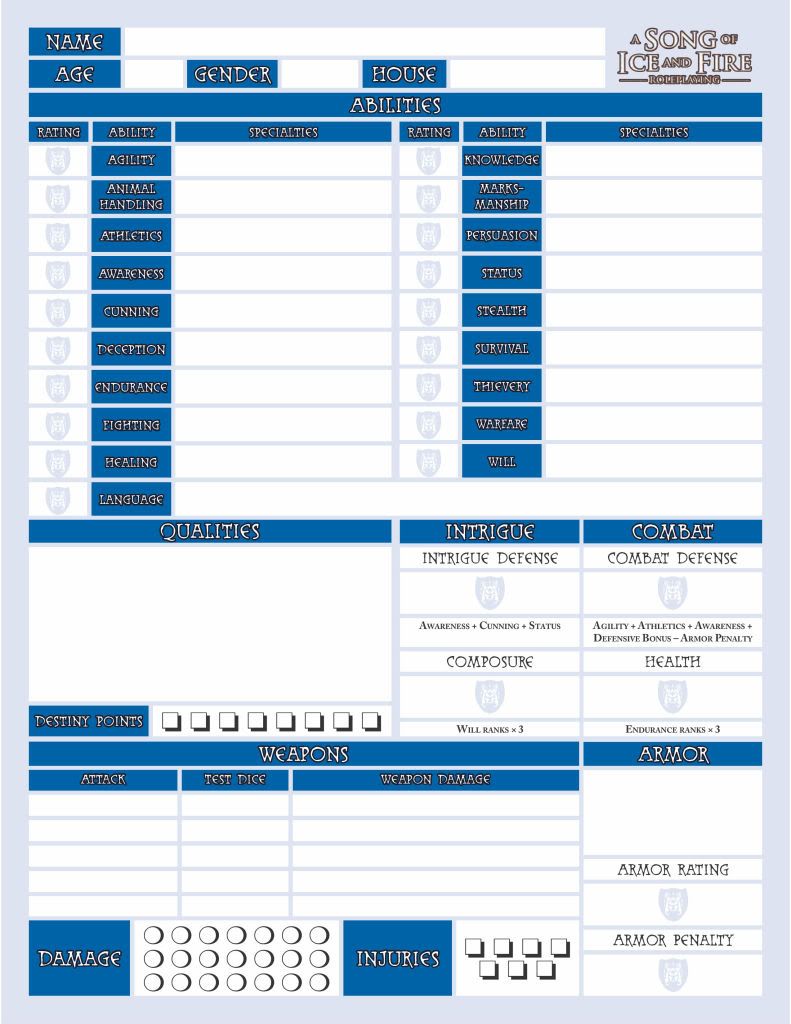 Below, you will find the GENERAL INFORMATION SECTION
Character Name
Masquerade
Age
18
Gender
Male
House
N/A
Below, you will find the ABILITIES section
Agility Score/Spec
3
Animal Handling Score/Spec
1
Athletics Score/Spec
2
Awareness Score/Spec
2
Notice (1B)
Passive Awareness: 9
Cunning Score/Spec
3
Deception Score/Spec
4
Act (1B)
Endurance Score/Spec
2
Passive Endurance: 8
Fighting Score/Spec
2
Short Blade (1B)
Healing Score/Spec
2
Language Score/Spec
4
Knowledge Score/Spec
2
Education (1B)
Marksmanship Score/Spec
2
Persuasion Score/Spec
3
Status Score/Spec
4
Stealth Score/Spec
4
Passive Stealth: 12
Survival Score/Spec
2
Thievery Score/Spec
3
Warfare Score/Spec
2
Will Score/Spec
4
Focus Score/Spec
4
Skin: Minor (2B); Major (1B)
Tapestry: Sight (0B); Manipulation (0B)
Below you will find QUALITIES, INTRIGUE and COMBAT Values
Qualities
-
Gifted
-
Dual Shaper
-Equivalent Shaping
-Bastard (-1D Persuasion against higher Status)
-Disturbing Habit (Eats Solace Stone shavings) (Intimidation +1D; all other Persuasion: -1D)
Intrigue Defense
9
Combat Defense
9
Composure
12
Health
6 / 6
Below you will find the DESTINY POINT pips. When they are spent, just delete the bolded *
Pip 1
*
Pip 2
*
Pip 3
Pip 4
Pip 5
Pip 6
X
Pip 7
X
Pip 8
X
Below you will find WEAPONS.
Weapon 1 /Test Dice/ Weapon Damage
Dagger
3
Agil-2
Weapon 2 /Test Dice/ Weapon Damage
Weapon 3 /Test Dice/ Weapon Damage
Weapon 4 /Test Dice/ Weapon Damage
Weapon 5 /Test Dice/ Weapon Damage
Below, please find ARMOR, ARMOR RATING, and ARMOR PENALTY
Armor / Armor Rating / Armor Penalty
Below, Please find DAMAGE and INJURY. They travel left-to-right, top-to-bottom.
Damage
Pip 1
*
Pip 2
*
Pip 3
*
Pip 4
*
Pip 5
*
Pip 6
*
Pip 7
Pip 8
Pip 9
Pip 10
Pip 11
Pip 12
Pip 13
Pip 14
Pip 15
Pip 16
Pip 17
Pip 18
Pip 19
Pip 20
Pip 21
Injury
Pip 1
Pip 2
Pip 3
Pip 4
Pip 5
Pip 6
Pip 7
IGNORE ME!!!!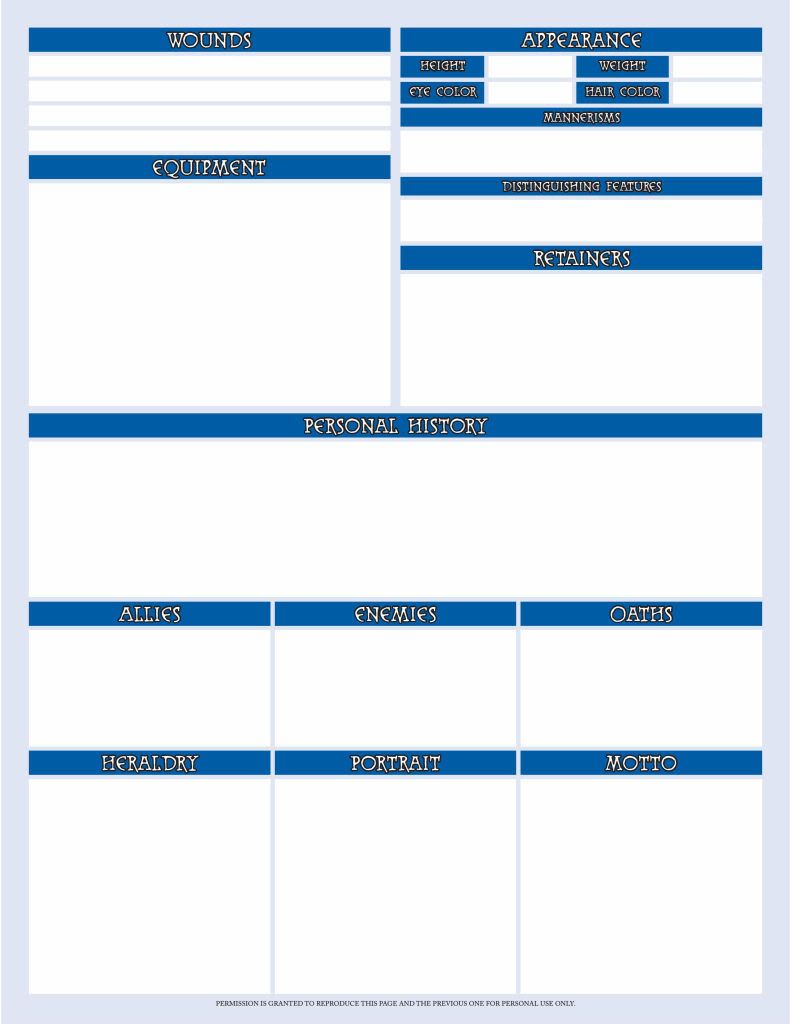 Below, WOUNDS
EQUIPMENT
Below, please find APPEARANCE
Height / Weight / Eye Color / Hair Color
Var.
Var.
Var.
Var.
Below, please find MANNERISMS and DISTINGUISHING FEATURES
Mannerisms
Distinguishing Features
Below, please place your RETAINERS (HA HA HA HA)
Below, PERSONAL HISTORY
Born into moderate wealth and renown, Markath Sempiterus nevertheless had what many would consider a difficult life. From the time of his birth, his father held nothing but contempt for the boy: Markath's hair, eyes, and temperament were evidence enough for Yornar to affirm his wife's infidelity. Nevermind the boy's prospective power given the seven Stones which spotted his knuckles; Yornar felt betrayed and cuckolded. Until her mysterious disappearance mere months after Markath's birth, Wellevin pleaded her innocence and begged her husband to accept Markath as his son. Yornar did not relent, however. Were it not for the kind servants busying themselves about Sempiterus Manor, Markath would have starved. Were it not for the rats that infested his "bedroom" (which itself was merely a converted dungeon room), he would have been friendless. Were it not for the bandits who kidnapped him, he would have been without a future.
Yornar brimmed with potential in the political arenas of Faewood. As a Voice Shaper, his charisma was legendary and he quickly brought his family's house from an unknown group along the outskirts of Faewood proper to one of the central names buzzing about the bustling city. As with any climb to the top, however, Yornar had made just as many enemies as friends. The Faewood underworld did not appreciate the Sempiterus' zeal in incarcerating and punishing its foot soldiers. While worming his way up the social ladder, toward the position of Mayor of Faewood, criminals broke into Sempiterus Manor, stole most things of value, and managed to kidnap Markath, hoping to hold him for ransom.
Despite the fact that Markath was viewed to be Yornar's only born son, Yornar had no intention of paying the ransom; in fact, he couldn't have been happier that Markath had been taken. Not only was the bastard child out of his hands, but Yornar now had an excuse to come down on the criminal underworld that threatened his rise to the top. Over the course of the next year, Yornar hired more soldiers to police the streets and raised the penalties for many crimes. Feeling cornered, the underworld lashed out in the only way it knew how. Yornar was found dead and mutilated on the front steps to the manor, only days before his assumption of the Mayor's office.
With their ransom plan foiled, the bandits tasked with capturing Markath used the boy in a different way than intended. Instead of being a commodity to be stolen and sold, Markath (or Mask as he came to be known by the bandits) became a tool to be utilized. The boy was a natural thief, and easily commanded. He was trained hard in the ways of theft, burglary, and simple fraud. Mask grew accustomed to the many underhanded methods of extracting money and valuables from the unaware populous, so much so that his bandit captures started seeing the boy as one of their own. Eventually, realizing his potential for disguise and duplicity, the gang sought to teach the boy to read and write, and the ins-and-outs of upper-class society. Perhaps it was simply to install someone amenable to the gangs' activities; or perhaps it was a last jab at Yornar, by installing his bastard son as the politician's perfect foil. Either way, such lofty plans were not to be. Mask was arrested one afternoon while trying to steal a hefty purse of denarii from a notable noble. Before the boy could be sentenced, the Hand snatched him up, knowing the boy's potential even better than his current "family" of gang members. And so begins the story of Masquerade.
Below, ALLIES
Below, ENEMIES
Below, OATHS
Below, HERALDRY
Below, PORTRAIT
Xp: 10/40
Busting Animatus Smugglers: 10xp
Hunting Faelings: 10xp
Defeating a Fae: 10xp
Increasing Will by 1pt.: -30xp
Diffusing an Inter-territory Conflict: 10xp
Below, MOTTO
Bio: